Usama Bin Laden on Shroud of Turin Osama bin Laden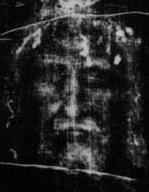 These pictures are simply the Shroud of Torin negatives
with a negative of Usama Bin Laden slowly overlaid at an
opacity of 25%, 50%, 75% and then 100%.
I have not done anything to alter the 2 images
other than resizing for the 2 to overlap.
Pictures of the Shroud came from a research page
found on about.com and the Bin Laden came from
the FBI most wanted list.
The first pic of the animation is the orginal, unaltered
Shroud pic with no overlay of Bin Laden. Notice that
the eyes of both when lined up remain uneven, slightly
offset of each other in the same way and of course look
at the rest. Also, keep in mind that Bin Laden is not a negative
of the image of someones face pressed against a cloth, like the
supposed Shroud of Torin & Bin Laden's pic is obviously of better quality
because of this.
I made this with corel photo-paint and by no means am I an expert.
I have no explanation as to why I got the urge to make this. The thought
just came to me and actually turned out stranger than how I thought it would
I don't know what this means and I don't know what I am trying to suggest.
have a great day,
gnome